100 No. 100 x 30mm Intumescent Hinge pads (0.8mm)
100 No. 100 x 30mm Intumescent Hinge pads (0.8mm)
1 review
A very good product and easy to use
---
---
Buy 2 or more items & save up to 15%
| Quantity Purchased | Price |
| --- | --- |
| Buy 1 | £26.36 |
| Buy 2 | £25.04 (Save 5%) |
| Buy 3 | £23.72 (Save 10%) |
| Buy 4+ | £22.40 (Save 15%) |
This pack contains 100 No. graphite based intumescent 100 x 30mm hinge pads in 0.8mm thickness.
Intumescent hinge pad for FD30 and FD60
up to 60 minutes fire rating
Flexible intumescent ironmongery material
Test in accordance with BS 476 Part 20 & 22 : 1987
Download the material data sheet here
 Need these pads with RADIUS corners, click here
We stock over 300 individual intumescent pads for fire rated hinges, locks, latches, bolts and sheet material view the entire range click here.
For more fire certificates, data sheets or product brochures please email us on info@FireEssentials.co.uk or call us on 01305 457703.
If you have any questions about this product or it's suitability to your specific fire door requirements, we would always recommend that you contact your fire officer or Responsible Person(s) etc.. BEFORE purchasing or, contact a member of our team and we would be happy to help.
| | |
| --- | --- |
| Product Type | Intumescent Hinge Pad |
| Material | Graphite Based Intumescent (also available in white/MAP) |
| Brand | Flexifire Graphite Intumescent (click here to download the material Data Sheet) |
| Fire Rating | Fire Rated to 30mins & 60mins (see 'buyers guide' below for details) |
| Colour | Black |
| Product Length | 100mm (other lengths available 75mm or 114mm) |
| Product Width | 30mm (other widths available 36mm, 40mm or 42mm) |
| Product Thickness | 0.8mm (see link above to view this pack in 1.0mm or 2.0mm) |
| Hinge Style | Square corner (also available with radius corners) |
| Finish Options | Plain or Self Adhesive |
| Pack Size(s) | 100 Pads (also available in packs of 6 or 24 pads) |
| Internal/External Usage | Internal |
| Manufacturer Guarantee | 1 Year Guarantee |
DOWNLOADS & FIRE DOCUMENTS

The type of material and thickness your hinge needs depends on the FIRE CERTIFICATE or TEST EVIDENCE of your hinge. 
But, as a general rule, you would need 0.8mm or 1.0mm for a 30 minute fire door and 2.0mm for a 60 minute fire door.
Each hinge is also tested with either graphite or MAP (Mono Ammonium Phosphate, white in colour and commonly called by it's brand name 'Interdens') or BOTH.
Is this the right SIZE pad for my hinge?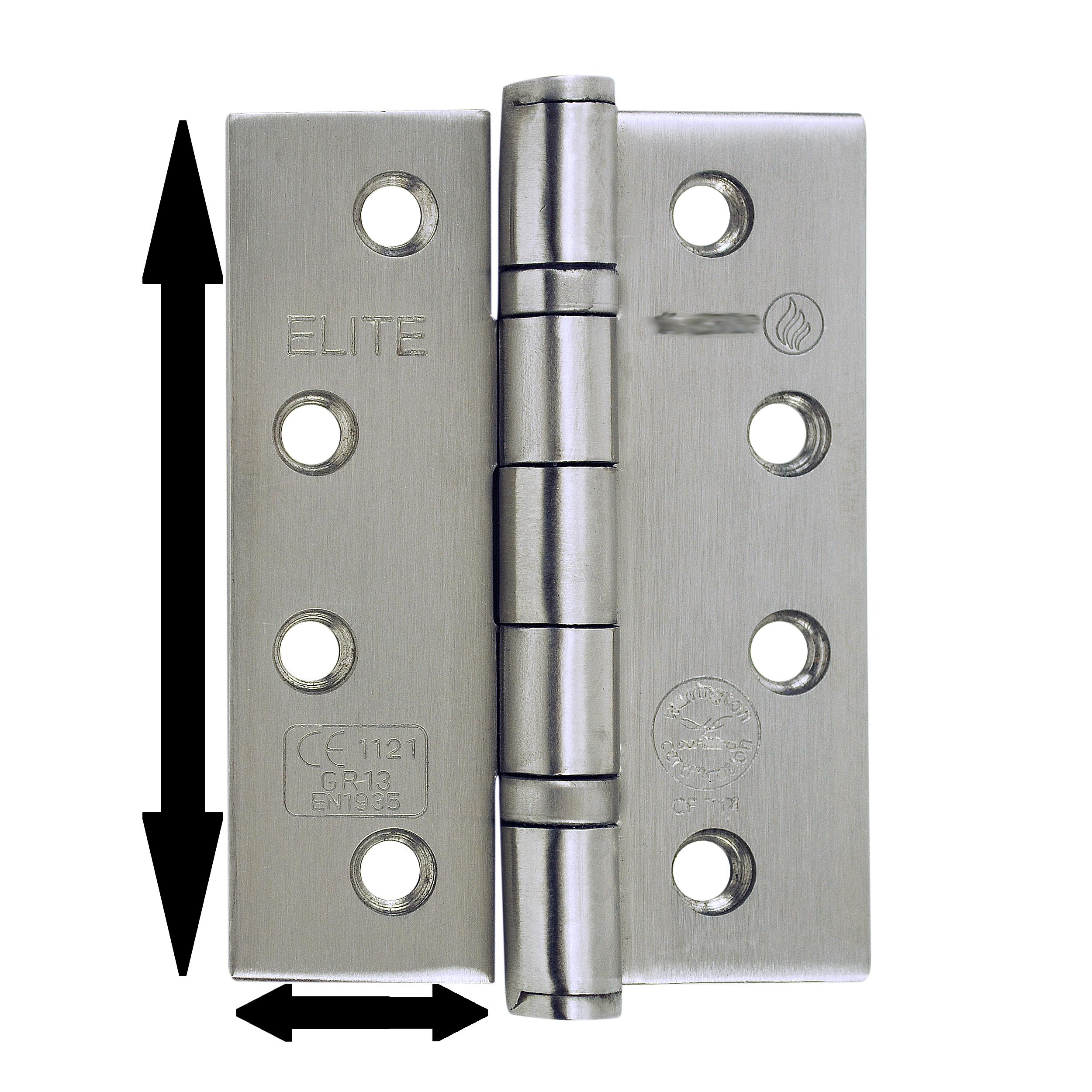 You will need to measure the hinge (measure the long ledge of one leaf and then the short length between the edge of one leaf and the knuckle of the hinge as per the diagram on the right). 
Which type of MATERIAL of intumescent do I need?
This will depend on the fire certificate or test evidence of the hinge and latch or, it will be dictated by the door certificate, just ask your fire officer or Responsible Person and they can tell you which documents to follow.
If you can't find the fire document you need please contact us as we have a database that is free to access.
Which THICKNESS of intumescent pad do I need to use?
The thickness of the material (either 0.8mm, 1.0mm or 2.0mm) will depend on the fire certificate of your ironmongery or the fire door, whichever is recommended by your fire officer or Responsible Person.
For a copy of the fire certificate just email us at info@FireEssentials.co.uk with your product details and we will send you a link to the fire document.
I still need a bit of advice, how do I find out more?
Just contact us via email (info@FireEssentials.co.uk), call 01305 457703 or visit the contact page on the website and a member of our technical team would be happy to help.
As with EVERYTHING on a fire door, if in doubt, ask the person responsible for your fire doors for advice BEFORE purchasing or fitting any products.